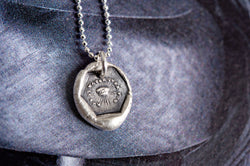 Stacey Fay Designs
The 12 Days Gift Guide - Day 8 - Talismans
With the meaning and symbolism that come along with the holidays, a gift in the form of a talisman is a great match.  It will be a piece of jewelry that can be worn everyday into the new year. Today's deal: Buy any one of these pieces and get a second 25% off.  
Contact us
for details.  
  We've cast some fun animals out of children's toys, and this
good luck elephant
 (trunk's up means good luck!) and
protection monkey
are among them.  These would not only bring a smile to the face of anyone who opens this gift, but they will offer a symbolic staple for their wardrobe.
Since ancient times in Asia, up through British and early colonial times in the United States, the symbol of the ball and claw has shown up everywhere from jewelry to furniture.  Originally in Asia, it would have been a dragon's claw, but the States reinterpreted it to an eagle's claw.  In either case, it symbolizes strength and protection.  Give this
handmade ball and claw necklace
to someone who needs it!
Nearly all of our wax seal necklaces can be considered talismans, but these two in particular are deeply meaningful - the
"May it Watch Over You" seal
with the all-seeing eye, and the
anchor and mast piece
, which symbolizes hope and steadfastness.  
Speaking of anchors...this solid gold
Victorian anchor pendant
is precious and beautiful.  On the fun side is a glass and sterling silver
evil eye bracelet
in a bright and inviting shade of blue.  
  Mezuzahs have been placed on the doorposts of Jewish households for centuries, and this
Mezuzah necklace
allows you to wear the talisman on your neck.  Then a simple filigree
gold filled scarab bracelet
brings with it good luck and many different stones that offer protection.  
Zuni bears are a long-held symbol of strength and protection in the Native American Zuni community.
This beautiful dimensional bear
also has the protective stone of malachite in it.  It's on quite a long chain, so it brings a bohemian and layered look to your wardrobe.