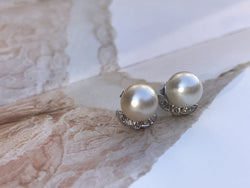 Stacey Fay Designs
The 12 Days Gift Guide - Day 2 - Gifts for Loves
It's the second day of holiday! Today we highlight the most popular theme around jewelry gift-giving: gifts for loves.  Show your adoration for someone with a piece of jewelry that holds meaning and history.
Today only, get 15% off any one of these items below
'Äď
contact us
and we'll create a special code just for you.
                There are so many beautiful earrings in the shop, including these vintage
diamond and pearl stunners
and these
antique garnet dainty starbursts
.  Want to see a smile on her face this holiday? One of these is sure to do it.
                There are numerous love themed wax seals in the shop (the Victorians used that sentiment on many a letter!), and these three here are bestsellers -
Everlasting Love
with a bird descending upon two hearts with a wreath of forget-me-not flowers; a seal that says
"L'Amour"
(love in French) with a rose, and a
simple and classic rose seal
.  Each of these holds symbolism both for your true love in this life and for those who have passed on.  
                Bracelets, particularly affordable ones like these two, are versatile and beautiful.  To the left is a
"sweetheart" bracelet
with a cameo - sweetheart bracelets were often used in WWI and II to help women left back at home remember their love in the trenches.  To the right is a Siam white enamel
goddess bracelet
- need I say more?
                And lastly are rings, the eternal symbol of love.  To the left is a sterling silver
"Amor Mio" ring
("my love" in Italian) and to the right is a dainty
gold celestial themed ring
(you are my sun and my moon...).