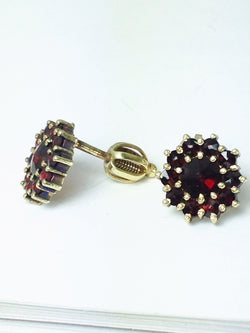 Stacey Fay Designs
The 12 Days Gift Guide - Day 12 - Best of the Best
We've made it! It's the 12th day of our "12 Days of Holiday" gift guide and today we feature the "best of the best" - our most favorite and best pieces from each of the days so far.  This means today you get the following deal on some of the best pieces we've got: 12% off any one of these items and free shipping!
Contact us
for the code.
Day 1: Gifts for Friends
You can't go wrong with a solid gold antique
anchor necklace
- so much symbolism, and so much beauty!  Anchors have long-held symbolism around hope and steadfastness, and of course, of something that keeps you steady and grounded amidst a storm.
Day 2: Gifts for Lovers
Hands down the
best earrings in the shop
- great for a holiday, great for a wedding, and the type of Audrey Hepburn-esque piece that will be cherished and passed down through the generations.
Day 3: Gifts for the Animal Lover
We're cheating on this day and picking two of the best - first, our favorite piece from the shop, which is the early 1900's
double headed gold snake garnet ring
. It's incredible.  Then, as a more affordable option, our handmade
elephant necklaces
which come in silver or brass, and bring good luck!
Day 4: Gifts for Under $100
Cuteness overload!  Any dog lover would adore this
Scottish Terrier marcasite brooch
, and we're in love with it.
Day 5: Gifts for the Southwestern Lover
There are so many pieces from this day that are amazing, but our favorite is this older
Native American necklace
with turquoise, coral and a great feather motif.  It's a sure-fire bet for the person who loves this style.
Day 6: Gifts for the Spiritual Person
Our favorite from this day would have been the gold and enamel Mezuzah necklace, but that sold! So our second favorite is this classic for Christmas, a simple and dainty
gold cross
with a lovely diamond in the center.
Day 7: Gifts for the Holiday Bride
It's the time of year! Lots of weddings, and lots of people getting engaged.  Of all the lovely pieces we featured on this day, my favorite are these precious
garnet cluster earrings
.  These earrings have been the most well received item in our shop, so we have no doubt they'll sell before the holiday.
Day 8: Talismans
With its ancient symbolism and funky design, our favorite from this day is our handmade
ball and claw pendant
. It's dainty enough to be an everyday staple, and unique enough to be a statement piece.
Day 9: Silver and Gold
With New Year's just on the horizon, our pick has to be the H. Stern
vintage "sputnik" ring
. We're in love with it's playfulness and its vibrancy - look at all of those different natural stones on the dome!  We just can't get over it, we love it so much.
Day 10: Gifts for the Art Deco Lover
This is a tough pick, since the Art Deco time period is one of my favorites, but this one rises to the top both for its historical significance (ties to the Titanic!) and its coloring - the
Ostby & Barton agate sterling silver ring
.
Day 11: Gifts for the Romantic
There's something about enamel that gets me every time. So my pick from this day is the vintage
gold and blue enamel flower ring
.  The cobalt blue is just so vibrant and beautiful.
  Enjoy the last of your shopping, and have a wonderful holiday and New Year! We're grateful for your business, and we look forward to a healthy and beautiful 2017!