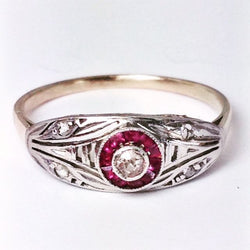 Stacey Fay Designs
The 12 Days Gift Guide - Day 10- Gifts for the Art Deco Lover
The roaring 20's - a time of the Great Gatsby, flappers and outfits draped with jewels.  It's a time of the Art Deco (short for
Arts Décoratifs) 
movement, growing out of the International Exhibition of Modern Decorative and Industrial Arts held in Paris in 1925.  Art Deco style was characterized by a modernist flair and rich materials - a time of exuberance and prosperity post WWI.  Often Art Deco jewelry contains geometric and architectural lines -an ode to modernism and technology - as well as innovative cuts of gems, and large rings with a prominent center stone.  Filigree, made popular in the Edwardian period (1890-1920), continued through the Deco period and is often associated with jewelry of the time. Enjoy the beauties below, and today's deal is 15% off any of these.
Contact us
for the code!
  An example of the bold center stone - in this case a gorgeous cabochon cut
amethyst ring
.  This piece also has the geometric lines in the ring's silhouette and cutouts.  Then we have a ring showcasing innovative stone cuts, modern lines, and some filigree - a stunning
ruby and diamond ring
.  
  One of my favorite rings in the shop is this octagonal
lapis lazuli ring
, set in white gold with intricate filigree work.  The picture doesn't do this ring one bit of justice; the lapis lazuli has gorgeous inclusions and variations in color, and its shape is completely unique.  Sweeping and simple lines make for a must-have bridal accessory in this
gold filled opal bracelet
.  We love the layers and dimensionality to this piece.
  Classic deco in the form of a
marcasite and carnelian brooch
(marcasite jewelry was common in the 20's), and a
black agate ring
with geometric shoulders.  
  Neither of these pieces are technically Art Deco - they were made many years later - but both have a Deco feel.  A flapper style
carnelian beaded necklace
 from the 1960's hangs long like the necklaces of the 20's, and brings a vibrant pop of color.  The
carnelian filigree ring
in gold over sterling silver has the Deco-esque elements of a prominent center stone and intricate filigree work.
  A masculine ring with feminine flair, a
1930's tiger's eye and diamond cameo ring
featuring a soldier.  This would have likely once been a gentlemen's piece, but we think it's perfect no matter your gender.  Any bride would be thrilled to wear this
1930's lavalier necklace
, featuring a white sapphire and pearl in a gorgeous filigree design.
The famed Titanic went down in 1912, and among the first class passengers was Ostby of the jewelry company Ostby & Barton. The company was formed in the late 1800's and ceased production of jewelry in 1950, but today any Ostby & Barton pieces are considered historic collectibles given the Titanic link.  These two agate rings - one with a
black and white agate
and one with an
orange-hued agate
- were made after Ostby's death in the 1920's.  Their signet style and awesome architectural shoulders make these classic Art Deco pieces. Among our favorites in the shop!