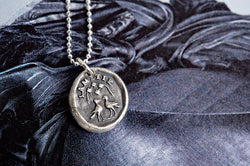 Stacey Fay Designs
The 12 Days Gift Guide - Day 1 -Gifts for Friends
Each day from December 1 - 12, we'll be highlighting great holiday gifts from the shop around a theme, and offering a one-day deal.  Day 1 - December 1st - kicks off with gifts for friends, some of the most popular gifts given at holiday time.  Jewelry is perfect, particularly if it holds symbolism or meaning.
Today only, get 20% off any one of these items below
-
contact us
and we'll create a special code just for you.
                Say friendship in French or English, with some beautiful symbolism of forget-me-not flowers and birds
on the left
, and clasped hands on the right (for this seal
contact us
; not yet listed).
                Is your friend an anchor in your life? Let her know it with
this gold necklace
. Or, choose
an antique ring
with dogwood flowers - a long-held symbol of constancy and endurance, a perfect sentiment for friendship. We have several different dogwood rings in the shop.
                What friend doesn't need a little protection with an
evil eye bracelet
?? Or give her a
gift of a locket
with a picture of you both in it.  There are many lockets to choose from in the shop!
                A
toi-et-moi opal ring
- French for "me and you" - is available for a steal in the shop. Or, gift a classic like this or many other
gold filled bangle
bracelets we have available.