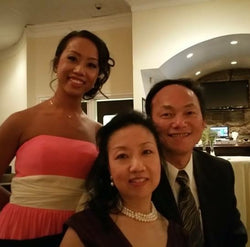 Stacey Fay Designs
Jewelry Stories: Kaitlin Wong
Real stories and real people - those in the Stacey Fay community share what vintage and handmade means to them, what gets them passionate and inspired each day, and a favorite vintage piece from their jewelry box.
Name:
 Kaitlin Wong
Location:
 Williamstown, New Jersey
Occupation:
By day I'm a high school Spanish teacher.  In the evenings I teach group fitness classes at my local college/alma mater.
My dream: 
In many ways, I live my dream on a daily basis.  I knew from a young age that I wanted to be a teacher because I get to positively influence future generations.  It is a very exhausting & demanding job, but I love the relationships that I'm able to build with my students.  Nothing makes me happier than when former students come back to visit me & fill me in on their lives & what they're up to.  Now as for my selfish pipe dream?  I LOVE traveling, & one day I hope to travel the world as much as possible & appreciate all of the different cultures that we have.
What's on repeat on iTunes for you?  
I have very eclectic music tastes.  Andy Grammer is currently one of my favorite artists with songs like "Good to be Alive (Hallelujah)" & "Fresh Eyes".
Favorite quote:
"A teacher affects eternity; he can never tell where his influence stops."  -- by Henry Adams
What does vintage or handmade mean to you?
Vintage means that something comes with its own unique story or history.  I'd like to think that vintage pieces have their own character, & that they retain a little bit of their previous owners.  They make you question where they came from, & the purposes they served before they came to you.  In regards to handmade, it's such a unique concept in our mass-production world.  To me, handmade indicates something that's been created with a great deal of heart.  A lot of time & effort goes into making something by hand, & it's usually evident in the finished product.
What vintage piece from your jewelry box is most meaningful for you & why?
My favorite vintage piece is a gold ring that my grandmother gave me when I was younger.  I started wearing it daily, & after she passed away a few years ago it helps to serve as a reminder that she's always with me.
What Stacey Fay piece are you coveting?  
Oh boy, that's a toughy because there are just so many!  I'm partial to rings, & I love the dainty look of the Vintage 
1940's 14K white gold diamond wedding band
Want to be featured in a future Jewelry Story? Write us: info@staceyfaydesigns.com